Sweetwater River Resort is located on the Arkansas river, 30 minutes from Canyon City and 30 minutes from Salida where Hwy 50 follows the river through Bighorn Canyon.
Skiers, we are only 40 miles to Monarch Ski Resort.
You'll enter a different world–a sanctuary away from the fast pace and pressures of ordinary life.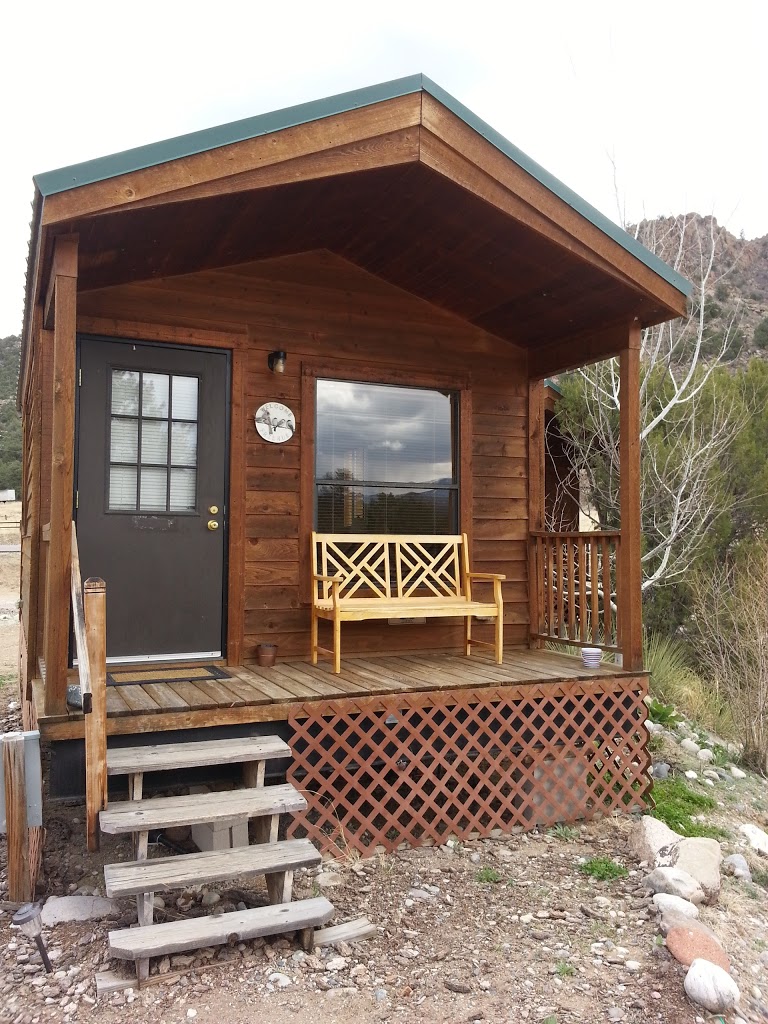 Sweetwater River Resort is a nature-lover's, outdoor enthusiast's, fly fishing fanatic's dream nestled on the banks of the beautiful juniper-lined Arkansas River. You'll find uncrowded sites to unwind with plenty of river to explore outside the confines of city life. At night you'll find the clearest skies around, perfect for stargazing.
You can be alone ~ Or meet new people.
You can do nothing ~ Or everything.
It's your vacation ~ You design it.
COME STAY WITH US!
Our lodgings run the gamut from budget-friendly cabins to glamping tents and a side of "RV".
Call Sweetwater home in one of our Rustic Cabins, Pioneer Cabins, Deluxe Cabins, or Glamping Tent.
We also have a big house perched above the Arkansas River for large families or friend groups. All spots are just a hop-skip-and-jump to the Arkansas River.
Would you rather rough it?
Set up a tent right next to the river
Drift to sleep to the sounds of rushing water
Wake to the sound of birds singing
Fish for your breakfast
Hike the mysterious Temple Canyon and search for the hidden Temple
Enjoy the wildlife everywhere.
Maybe you're an urban cowboy…
Enjoy the amenities of a motel room or your own RV
Mountain bike, ATV or go 4-wheeling on nearby trails and roads
Rock climb
Enjoy the restaurants, shops and art galleries in nearby towns.
Spend a day at the Royal Gorge
Attend art and music festivals in the summer
Our amenities
Perhaps you're looking for a romantic hide-away. Try one of our Deluxe Cabins.
Cozy. Intimate
Sleep until noon…or later!
No interruptions
Your own world
Meals in your cabin
Romantic strolls along the riverbank
Memories for a lifetime
At Sweetwater River Resort, you can do it all!
As our guest, you can:
Fish on our private 1/2 mile of river frontage on the Arkansas River
Go whitewater rafting or kayaking
Soak in a nearby hot springs
Hike or mountain bike through the mountains
Pan for gold
Stargaze at night
Keep a look out for eagles and osprey or any of our myriad species of birds
Watch for Big Horn sheep or pronghorn, or even elk
Experience the splendor of Colorado aspen in autumn
Explore a ghost town
Or simply sit by the water, relax and drink it all in.
So close to everything:
Right down the road from 45 miles of 4×4 and ATV trails at Texas Creek
10 min. to Arkansas Headwaters Hiking Area
10 min. or less to Vallie Bridge Loma Linda, Lone Pine
20 min. to Hayden Creek
30 min. Royal Gorge
30 min. to The Bluff Trail Hiking in Westcliffe
Sweetwater River Resort is the perfect place to stay for river rafting trips throughout the season.