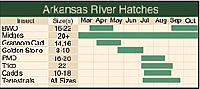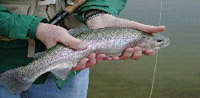 People come to Sweetwater for things they enjoy doing.
Others come to do NOTHING for a change — especially when they can do nothing in such a beautiful location.
Take a look at what we have listed here. Then contact us about making arrangements to do the things you enjoy most…
Fly fishing the Arkansas River is one of the famous "must-do" trips for anglers. The Colorado Division of Wildlife (DOW) has called this part of the Arkansas one of the eight best trout rivers in the state, and reports the population count at over 4,000 brown trout per mile — giving us at least 2,000 to catch without leaving the property!
Fish love to feed on caddis flies. Scientist use the caddis fly popluations to determine how healthy a stream, river or lake is. Caddis fly hatches on the Arkansas River are very good. The caddis hatch that occurs during the spring is one of the most prolific in the west.
Blinding numbers of these flies come off and cover the river. This is a great time to catch trout since many fish come to the surface to feed on the live caddis flies.
Blue-winged olives and pale morning duns are the most prolific and productive mayfly hatches on the river. Stoneflies and other caddis also stir the river's surface when the conditions are right. The huge golden stonefly hatch usually occurs during the runoff period but can still provide some dry fly action in areas of slower water or along the banks.
Streamers and nymphs also produce very well. They fish exceptionally well along the banks when the river is high  from recent rain or runoff. Use some split shot and a long leader to get your nymphs down. A sink tip line will help to get your streamers along  the bottom and fished properly.
Hiking
We have several purposely under-developed trails through the 31 acres of Sweetwater.
Some feature natural and cultural history learning opportunities, all have great "Kodak moment" locations!
Mountain Biking
Miles and miles of biking trails and roads in the local area afford numerous opportunities for short or long rides, suited for the novice or the expert.
ATV/Jeep/4WD Trails
We're only two miles away from the Texas Creek Travel Management Area which offers miles of terrific trails and spectacular views of the Sangre de Cristo Mountains.
Driving maps, jeep and ATV rentals are available.
River Rafting
What can we say? The Arkansas River is one of the premier paddling spots in the country! Raft trips suitable for family outings, as well as kayak trips for the advanced paddler are right at our doorstep.
Wildlife Viewing
Sweetwater is actively managed to maximize your opportunity to see and truly understand wildlife. We regularly see elk, deer, and bighorn sheep (or evidence of their nocturnal visits) right ON the Sweetwater property. Mountain goats (picture) live nearby. Over one hundred species of birds inhabit this area. We have at least one resident beaver.
Over one hundred species of birds inhabit this area, including bald eagles, kingfishers, mountain bluebirds, flycatchers, and cliff swallows.
The only tigers we've seen so far are Swallowtails (Butterflies); but yes, Dorothy, there are "lions, and tigers, and bears, oh my", so make sure your wildlife viewing is done safely. If you're not sure how to do that, just ask us; we want your experience with wildlife to be as safe as it is satisfying.
We don't know of any river otters at Sweetwater, BUT the Division of Wildlife has begun a very successful program of re-introduction of this wonderful aquatic mammal on several Colorado Rivers. Keep your eyes peeled!
Wildflower Viewing
An awesome variety of wildflowers bloom in southern Colorado. Starting in May, all throughout the summer, and into fall, a colorful display of wildflowers abound. Ask us for directions to the "special" areas where wildflowers are in abundance at that particular time.